Best Canada Dependent Visa Consultants
Requirements, How to Apply, Fees of Dependent Visa for Canada.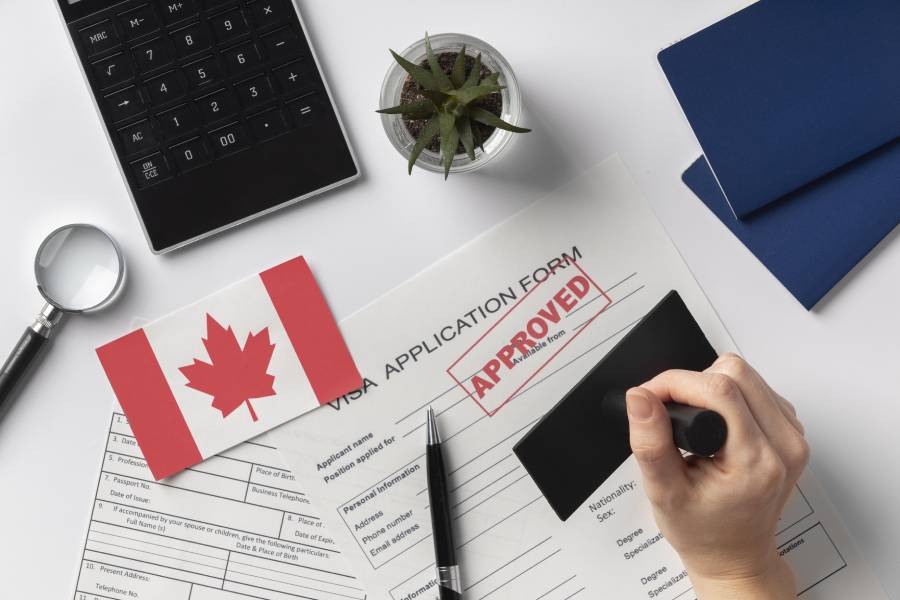 Dependent Visa for Canada
Canada is a welcoming nation that has the highest rate of immigration in the world. In the last few years, migration to Canada by Indians has seen a dramatic increase. Canada is becoming an increasingly popular destination for people around the world due to its excellent education system and the strong job market.
What is a Canadian Dependent Visa?
A Canadian Dependent Visa is a type of visa that allows family members of Canadian citizens or permanent residents to travel to Canada and stay for an extended period of time. This visa allows the dependents to work, study, and even apply for permanent residency in Canada. With a Canadian Dependent Visa, families can be reunited in Canada and enjoy all the benefits that come with living in this country.
Eligibility Criteria For a Canadian Dependant Visa:
To be eligible to sponsor a spouse or common-law partner, both parties must meet certain criteria.
You must be the main applicant and must have a spouse, common-law partner, conjugal partner, or dependent children who are under the age of 22.
A dependent child must meet certain criteria in order to be eligible for benefits.
To be eligible for dependent benefits, a child must be under the age of 19 (or 22 if in full-time education) and unmarried.
To be eligible for a parent/grandparent visa, applicants must meet certain requirements including age, health, and financial status.
Sponsors must be related to their child or grandchild through either blood or adoption.
Documents Required For a Canada Dependant Visa:
A Canada dependent visa requires a list of documents to be submitted for application.
A sponsorship agreement must be completed and submitted by the sponsor in order to sponsor an individual.
The national identification cards of a candidate.
A birth certificate is required for both the candidate and the sponsor.
The sponsor must provide proof of Canadian citizenship to be eligible for a PR card.
Documents that verify the connection between a sponsor and their sponsored person serve as proof of their relationship.
Spouse visa applicants must provide supporting documents such as a marriage certificate.
Proof of sufficient funds is required to sponsor a person.
Additional documents may be needed to proceed.
Steps to Apply for a Canada Dependent Visa?
Applying for a Canadian dependent visa is easily achievable with these 7 simple steps.
Step 1: Get the visa application package for easy and accurate completion of forms.
Step 2: Both parties must complete the application forms to begin the sponsorship process.
Step 3: Pay the visa application fee quickly.
Step 4: Submit the application form
Step 5: Be sure to provide all the necessary documents for a successful application process.
Step 6: Stay informed and up-to-date with your visa application online.
Canada Dependant Visa Cost
Applying for a Canadian-dependent visa can be cost-effective depending on the type of visa.
Different dependent visa applications have different costs as shown:
The Canadian government offers a dependent visa for spouses and partners, available for $1080 CAD.
A dependent visa for a child costs 150 CAD.
Canadian citizens can sponsor their parents or grandparents to stay in Canada with a dependent visa for 1085 CAD.
A dependent visa for a relative, such as a child, can be obtained for just 150 CAD.
An adult relative can apply for a Dependent Visa for 1080 CAD.
Time To Process a Canada Dependent Visa Application
A partner or spouse can obtain a visa for 25 months with the help of dependents.
Dependant Visa for parents or grandparents can be obtained in 33 months
What do we offer?
Get step-by-step guidance for eligibility checking and process requirements.
We prioritize safety and transparency in all of our processes.
Cases are carefully examined to ensure accuracy and quality before submission.
Why us?
VSmart Migration has built up a wealth of experience and goodwill in the immigration industry, enabling countless individuals to reach their goals of moving to Canada.
We are a trusted and successful immigration firm, having assisted thousands of people in achieving their permanent residency goals. VSmart Migration is one of the best visa consultants in Chandigarh. We aim to provide quality immigration services and counseling to our customers.