Best Consultants For
Canada Visitor Visa
Requirements, How to Apply, Fees of Canada Visitor Visa.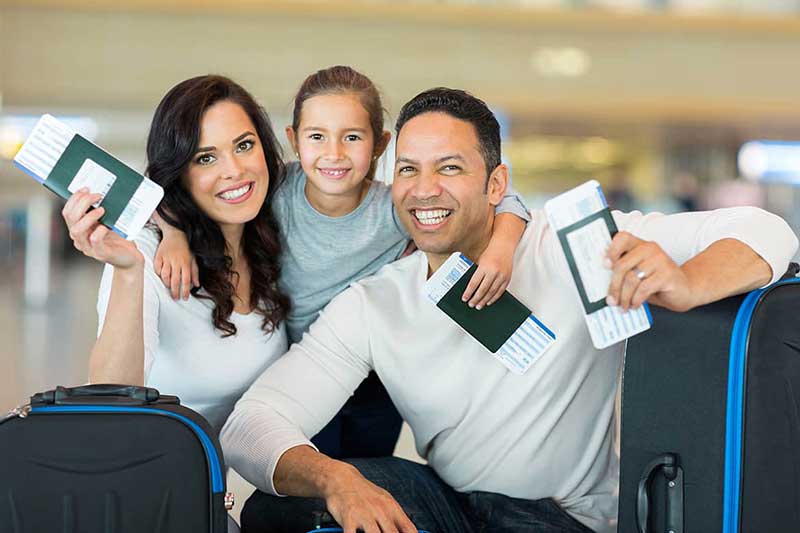 Canada Visitor Visa
Canadian visitor visas are intended for those who wish to visit Canada for a short stay for the purpose of studying short-term courses or short-term work assignments of less than 6 months, for visiting relatives and family members, or for a vacation. Visitors to Canada in these and other categories must apply for and be granted a Canada Visitor Visa before being admitted to Canada.
Canada has millions of visitors each year. In fact, more than 35 million people visit Canada each year to enjoy the many opportunities it offers, such as visiting family and friends. If you want to come to Canada for temporary purposes, you may need a TRV (Temporary Resident Visa) unless you are a citizen of a "visa exempt" country.
Canada Visitor Visa categories
There are different categories of visitor visas depending on the purpose of the visit. Each category has different admission criteria and different application procedures.
Canada Visitor Visa for business
Anyone who wishes to temporarily visit Canada for one or more of the following purposes is considered a business traveler:
You are looking for an investment opportunity or partnership in Canada to grow your business.
The purpose of the visit is to develop business relationships with Canadian stakeholders.
Look for opportunities to grow your business.
Indians applying for a visitor visa for business purposes must submit the following from their Canadian partner, along with the 24-hour contact information provided on the application.
A document that provides sufficient evidence that you are employed in your country and are doing a valid job.
Plausible evidence that you plan to stay for up to 6 months and will not renew your visa at the end of your stay.
Plausible evidence that you have no intention of entering the Canadian labor market.
You must provide proof that you are not resident in Canada and that your source of income is outside Canada.
You must have a valid passport that will not expire in the next 6 months.
You need to prove that you have sufficient financial resources to stay and return to Canada.
Medical and police records must be provided to prove that they do not pose a threat to Canada upon arrival.
Temporary or Visitor visa
A temporary resident/visitor visa is required for travelers planning to visit Canada or relatives on vacation. This is the official document stamped on your passport by Canadian Consulate officials. The stamp indicates that you meet all the requirements to enter Canada.
Canada Visitor Visa Eligibility
It requires a valid passport that will not expire within 1.6 months.
They must have a clean record, without criminal or immigration-related convictions
You need to be able to provide sufficient evidence that you have a connection with your home country.
Once your visa has expired, you should be able to convince your immigration officer that you are willing to leave Canada.
You need to prove that you have enough financial resources to support you during your stay. If you are staying with relatives, you will need an invitation from them.
If necessary, you may need to undergo a medical examination and provide the results.
Super visa for grandparents and parents
If you are a parent or grandparent who intends to visit Canada with your child or grandchild, you can apply for a Super Visa. Unlike regular visitor visas, which only allow you to stay in Canada for 6 months, Super Visa allows you to stay in Canada for up to 2 years.
Qualification criteria for director
1. Must be a Canadian parent or grandparent, or a permanent resident of Canada
2. You will need a signed invitation from your child or grandchild. This should include:

A. Promise that he or she will financially support you during your stay in Canada.
B. list of the number and names of people who live in your home
C. copy of your Canadian passport or PR visa.
D. Proof of health insurance coverage by a Canadian insurance company. The minimum coverage is CAD $1,00,000 which is valid and fully paid for at least one year from the date of enrollment.

3. Parents or grandparents must undergo a medical examination to prove that they do not pose a health risk to Canadian residents.
Documents certifying funding
The child or grandchild you invite must prove that your household is earning the minimum income you need. You can submit the following documents as proof of the loan.
Tax Assessment Notice (NOA) or T4 / T1 for the tax year of last year 
Employment insurance stub 
Employment letter including salary and hire date  
Pay slip 
Account statement
Basic documents required
To get a visitor visa, you need to meet some basic requirements.
Have a valid travel document such as a passport
No criminal or immigrant-related convictions
Convince the immigration officer that you have a relationship-like B. work, home, financial assets, or family-bring you back to your home country
Convince the immigration officer to leave Canada at the end of your visit
Have enough money for your stay
The amount you need depends on how long you are staying and whether you are staying at a hotel or with friends and family.
You may also need a medical examination and an invitation from someone who lives in Canada.
Key points to consider in a cover letter
When applying for a visitor visa, you must also submit a cover letter, which is an integral part of your application. Our expert consultant can take care of this on your behalf.
But if you want to do this yourself, You need to include the following items:
The reason for the trip to the destination.
Explanation of how to manage travel expenses and confirmation that there is an economic means for that.
Please explain your source of income.
Explain if you have a Canadian sponsor-Please explain your relationship with the sponsor and why you were selected as a sponsor. Please provide an itinerary summary, including the itinerary and dates of major activities planned in Canada.
The purpose of your trip.
Instructions on how to handle travel expenses and proof that you have the necessary funds.
A description of your source of income.
Flight details.
How can VSmart Migration help you with a Canadian Visitor Visa?
VSmart Migration is one of the best visa consultants in Chandigarh. We aim to provide the quality immigration services and counselling to our customers. Many of our clients are pleased to be freed from the headaches associated with paperwork and government bureaucratic preparation by outsourcing this work to a team of immigration professionals. It's great to see clients come to Canada on a Canadian visitor visa to meet family and friends and travel through the beautiful Canadian countryside without the hassle of completing a large amount of complex paperwork.
We have helped thousands of people visit Canada successfully. No one can promise a guarantee, but we are confident that our wealth of experience can help increase your chances of visa approval.