Best Australia Dependent Visa Consultants
Requirements, How to Apply, Fees of Dependent Visa for Australia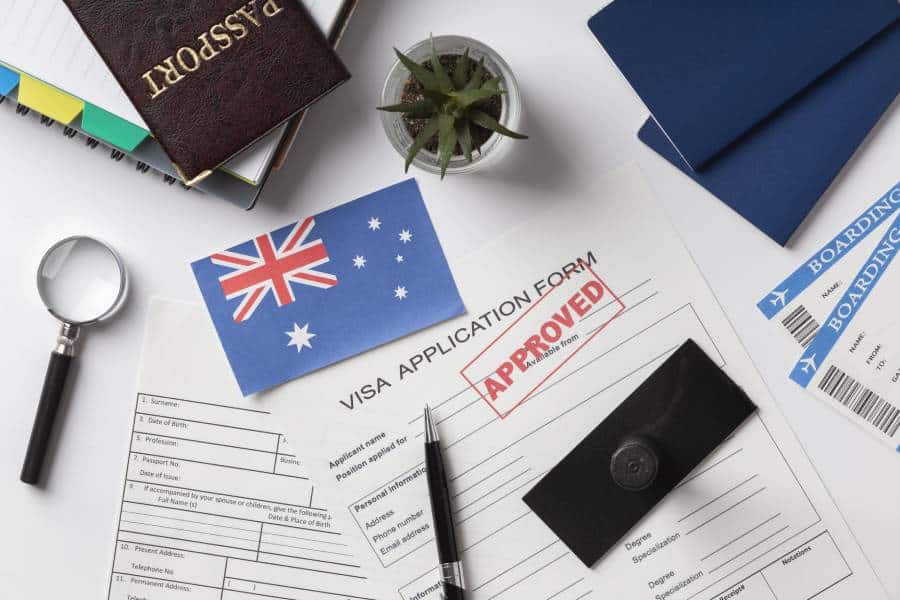 Dependent Visa for Australia
Australia is an attractive destination for those seeking a higher quality of life, infrastructure, and professional opportunities abroad. Thousands of people make Australia their home each year through Permanent Residency, creating a bright and diverse future for the country. Australians can bring their loved ones to Australia through family sponsorship, giving them the opportunity to build a secure and happy life.
Depending on the type of visa you're applying for, your spouse & children may be considered dependents. Here we've given you some information about both in this article
What is a dependent visa?
Dependent visas provide permanent residence for the partners of Australian citizens or permanent residents, bringing them together in Australia. With a spouse or partner visa, you can qualify for permanent residency if you are married or in a committed relationship.
Ways to get a dependent visa in Australia:
Become an Australian citizen by marrying an Australian permanent resident.
You can become a de facto partner of an Australian citizen.
Dependent visa category to apply
For partners living outside Australia, there are a variety of visa options available for them to join their Australian citizen and permanent resident partners.
The Partner (Provisional) Visa (Subclass 309) and Permanent Visa (Subclass 100) are two visa options for those looking to come to Australia.
The Partner visa provides a path to Australian immigration for the spouses and partners of citizens, permanent residents, and eligible New Zealand citizens.
The Australian government has approved the temporary Partner (Provisional) visa (subclass 309), allowing people to stay in Australia. The DHA grants Subclass 100 visas to approved permanent migrants. The Subclass 309 visa allows for temporary residence until the applicant is granted their permanent residence visa (Subclass 100).
Dependent Visa requirements for eligibility.
To apply for a Dependent Visa, you must meet the following eligibility requirements:
Age Factor: To apply for this visa, you must be 18 or older and married. This is to ensure that your marriage meets Australian legal requirements. To be a de facto partner, you must be at least 18 years old.
Relationship Factor: To become an Australian citizen or permanent resident, you must be married to or the de facto partner of another citizen. Even if your relationship changes after you apply, you may still be eligible.
Sponsorship factor: If you plan to travel to Australia, you must have an adult sponsor unless you are under 18 years of age.
Debts to the Australian government: Pay any debts owed to the government before attempting to access any government funds or services.
Dependent visa fees
The Spouse Visa fee is AUD7,715. This fee is paid when the application is lodged. The government typically does not refund visa application fees, regardless of rejection or withdrawal.
A visa requires more than just a fee – it may also include a police clearance certificate and medical certificate.
Dependent Child Visa
The Dependent Child visa (subclass 445) is a temporary visa that allows a child to accompany their parents and live in Australia until their permanent visa application is approved.
Eligibility requirement for a Dependent Child visa
To obtain a Dependent Child visa, the applicant must be the dependent child of someone with a temporary Partner visa or already have a Dependent Child visa. It is essential for parents to meet specific eligibility requirements before applying for a child visa.
Sponsorship provides a great opportunity to support family members with limited exceptions.
Health and character are essential.
To be eligible, the child must be single.
All participants must be 18 or older or meet one of the specified requirements.
Dependents document checklist (under 18)
Provide documents for all applicants under 18 to apply for the visa.
Identification documents are essential for confirming the identity and verifying character.
For minors applying for visas, the consent of any other parties with legal rights to the child is necessary.
People aged 16-17 need to provide Form 80 for assessment when applying for a visa.
Adoption papers or court orders can provide legal recognition of parentage.
Those 16-17 years of age must provide police certificates if applicable.
Get the necessary police certificates for your sponsor to ensure a successful immigration process.
How to apply for an Australian spouse Visa or a Dependent child visa?
To apply for an Australia spouse visa, you must be outside of the country.
For help with Australia's Spouse and dependent child Visas, get in touch with certified Migration Experts at VSmart Migration.
What do we offer?
Leverage the power of profile evaluation for guaranteed visa approval.
Get an in-depth analysis of you and your primary applicant for successful results.
With our expert guidance, you can get your visa application ready up to 4 times faster!
Vsmart ensures your visa application meets all necessary requirements and standards for the country of your choice, providing a smooth and stress-free visa filing experience.
We will review all documents, ensuring that no detail is overlooked or missed.
Interview Training provides an opportunity to prepare for important questions related to your relationships and why you wish to move with your family.
Get assistance for all the important steps in your job search - from interview training to tailored resumes and cover letters.
Get the help you need to settle in your new country with customized post-landing services.
Why us?
Applying for a dependent visa can be made easier by having the basic requirements. Partner visa applicants must meet the legislative requirements to be approved in Australia. All applications will be assessed equally.
VSmart Migration is an experienced immigration consultancy in Chandigarh. Our team is dedicated to providing the highest quality service, addressing every application with care and precision.