The Australian Government offers all Indian students the opportunity to study in the country. Still, as a prerequisite, they must first apply for an Australian student visa before entering and starting their studies. 
The required visa depends on the course level, the type of study desired, and the duration of the programme. As an international student, you need an Australian student visa (subclass 500), regardless of your field of study, the university you applied to, or tuition fees.
Australian student visa (subclass 500)
In July 2016, the Student Subclass 500 visa went into effect. This is valid for the duration of your study program and allows you to stay in Australia for up to five years from the registration date. The standard Australian visa application fee is 620 AUD (INR 34,311). Benefits of obtaining this student visa include the ability to bring family members to Australia, the ability to pursue a qualified degree program, and the ability to apply online to selected programs in and outside Australia.
To be eligible for a subclass 500 student visa, an international student must meet the following requirements:
In Australia, we are enrolled in full-time on-campus programs.
Must have OSHC (Overseas Student Health Cover) or be in one of the excluded groups.
Must be 6 years or older.
If you are under 18 years old, proof of welfare facility is required.
Australian student visa requirements
Subclass 500 is the name of the Australian student visa. 
You are only eligible for a student visa if you want to study the course or part of it full-time for which you are enrolled.
A student visa is valid for a maximum of 5 years. 
The course you wish to take must be registered with the Commonwealth Register of Institutions and Courses for Overseas Students (CRICOS).
You will receive an Electronic Confirmation of Enrollment (eCoE) confirming your admission to an Australian university. 
A Genuine Temporary Entry (GTE) Statement – ? This is proof that you only want to study in Australia, not for a living.
4 recent passport photos
Certified or notarized copy of academic certificate/document
International Student Health Cover (OSHC) – This health cover is approved by the Australian Government and provides basic health and hospital insurance. This insurance is available through the university.
English test results such as IELTS, TOEFL, and PTE are important if English is not your native language. Proof of financial means to cover all costs for the duration of the study
Proof of personal status, if applicable
Australian University will inform you of any additional requirements before you apply. 
Financial Requirements – To obtain a student visa, you must prove that you have the financial means to cover course fees, travel, and living expenses.
Character Requirement – You must provide proof of no criminal record.
Proof of Visa Fee Payment – Proof that you have paid the required visa fee.
Note: Any additional requirements will be communicated by the selected university.
Documents required to apply for a student visa in Australia
When applying for a student visa to Australia, you will usually need:
Certificate of Enrollment (Electronic Enrollment Confirmation)
Valid passport
Visa application fee
Temporary Entry Certificate of Authenticity (GTE).
Research and work references
Proof of English proficiency (e.g. IELTS test results)
Proof of financial strength (tuition, living expenses, support expenses, return flight)
Contents of health insurance (international student health insurance)
Letter of intent
Passport photo
If you are under the age of 18, you must also provide additional documentation, such as a parental consent form.
Average Tuition and Course Costs for Indian Students
These are the average annual tuition fees for international students according to the official government website.
International students – AUD 15,000 to AUD 33,000
International Graduate School (Master) – A$20,000? A$37,000 
Ph.D. – AUD$14,000 to AUD$37,000
However, these figures do not include quality degree programs such as medical degrees and veterinary medicine. They cost quite a lot.
Australian Student Visa Processing Time 2022
Australian student visas are usually processed within one month but can take up to three months.
However, the Simplified Framework for Student Visas (SSVF) will speed up your visa processing time. Student visa processing times are as follows:
| | | |
| --- | --- | --- |
| Stream | 75% Processing | 90% Processing |
| Foreign Affairs or Defence Sector | 20 days | 26 days |
| Postgraduate Research Sector | 39 days | 77 days |
| Independent ELICOS Sector | 23 days | 38 days |
| Vocational Education and Training Sector | 36 days | 52 days |
| Higher Education Sector | 17 days | 32 days |
Standard time is 4-6 weeks due to the streamlined SSVF process. Again, this varies by institution. Pending documents can be requested from a visa officer at any time if necessary.
Australian higher education institutions issue an Electronic Confirmation of Enrollment (eCOE) which is an integral part of the Student Visa Program (SVP) process. The request is then sent to the Ministry of Interior.
It is recommended that you must apply for an Australian student visa to the institution at least 12 weeks before the orientation date.
Eligibility to get a student visa in Australia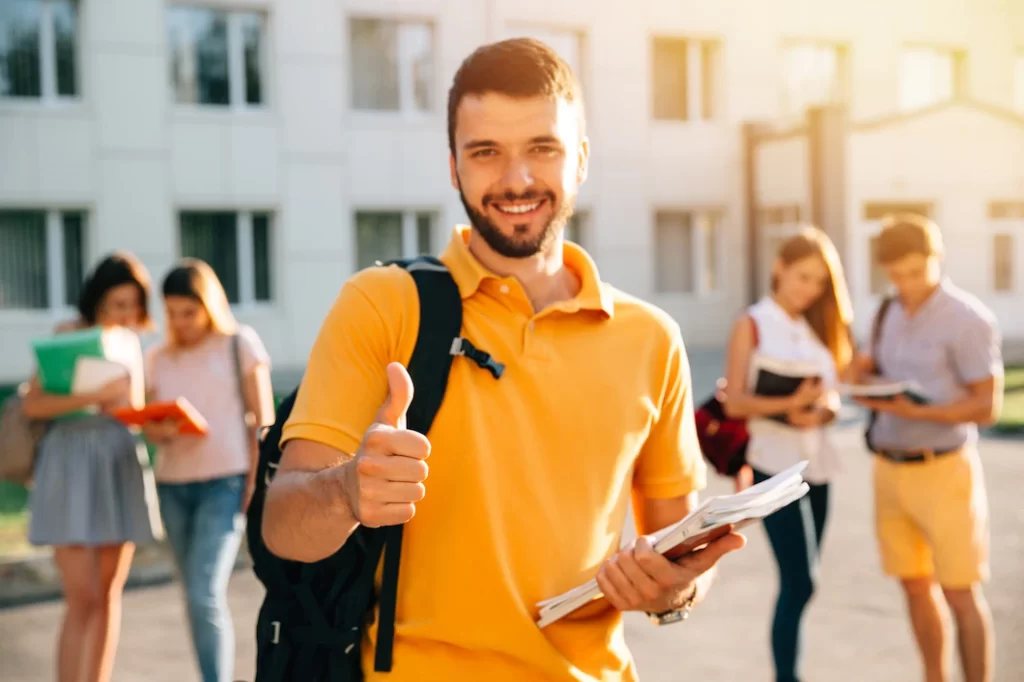 As an international student wishing to study in Australia, you must meet the following eligibility requirements in order to obtain a student visa.
Enroll in courses and submit evidence
Your Australian student visa application must include proof of enrollment. They are often available in one of the following formats:
A CoE, or Confirmation of Enrollment, is sent to students enrolled in full-time courses registered with CRICOS (Commonwealth Register of Institutions and Courses for Overseas Students). 
Course Package and CoE: If applying for multiple courses, the visa application must include all her CoE codes. Otherwise, the Australian student visa will only cover the duration of her CoE specified.
You can sign up for more than one course so that one course leads to the next. The period between the start of the two courses should not exceed two months. If the first course ends at the end of the year and the next course starts at the beginning of the next year, no gap time will be applied.
Letter of Support: If you are accepted into a full-time study or training program sponsored by the Australian Minister for Foreign Affairs and the Department of Commerce Scholarship Scheme, you may submit a letter of support as proof of your admission.
If you are sponsored by the Australian Department of Defense, you can apply for a student visa with a letter of support.
Advice on Accepting Secondary Exchange Students (AASES): Students considering an exchange degree from Australia may include this in their application.
Letter from your Tutor: PG students who need to be in Australia while their thesis is being graded must provide a letter from their Tutor confirming this.
Move to Australia
Once applicants have received their visa, they must contact their respective institution at least 90 days before the start of the course. If the accommodation has not been booked, he should inform the Institute at least 7 days before his arrival.
Even after completing the course, if the duration of the course exceeds 10 months, the applicant is entitled to stay in Australia for 30 days or 60 days. The time limit is stated on the visa and must be adhered to.
Wrapping up
The above requirements and processes have to be followed to apply for and get your Australian student visa. Our visa agents in Chandigarh and counselors are always available to guide you and clear your doubts.

VSmart Migration also offers other visas apart from student visas as well. You can contact us through our website or can contact our experts for guidance or consultations.